News
"So We `re At War! Stories about wartime and peace" ist eine Filmdoku von Grzegorz Czerniak, Ania Ćwięka und Wojciech Saramonowicz, die aus größtenteils bislang unveröffentlichten Videoaufnahmen zwischen 1935 und 1939 besteht. Wie sahen die letzten Sekunde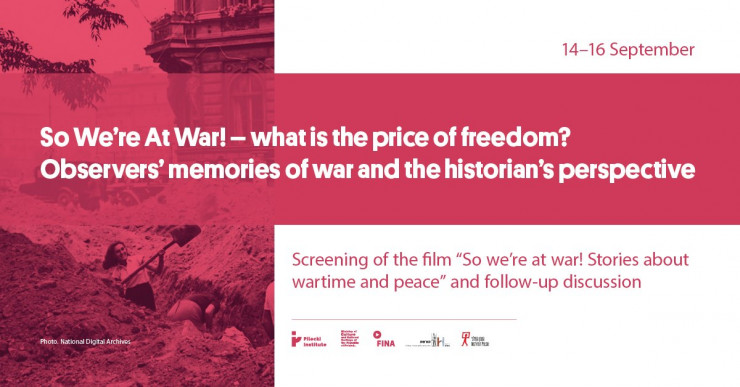 Für den morgigen Dienstag und Mittwoch haben wir eine ganz besondere Empfehlung für Sie:
"So We´re At War! Stories about wartime and peace" ist eine Filmdoku, die aus größtenteils bislang unveröffentlichten Videoaufnahmen zwischen 1935 und 1939 besteht.
Wie sahen die letzten Augenblicke in Freiheit, der letzte Familienurlaub, der letzte Schultag vor Kriegsbeginn aus? Und wie haben die Menschen in den ersten Sekunden des Kriegs reagiert, was hat der Krieg dann mit und aus ihnen gemacht?
Den Film kann man sich morgen und übermorgen anschauen. Am Mittwoch empfehlen wir außerdem noch die begleitende Onlinediskussion mit einem Star-Ensemble an internationalen Historikern um 18 Uhr über Zoom.
Prof. Eli Tzur ist der Leiter des Yad Yaari Research & Documentation Center in Givat Haviva und zudem ein anerkannter Experte im Bereich der linkszionistischen Denkschulen und sozialen Bewegungen.
Prof. Roger Moorhouse hat mehrere Bücher über den II Weltkrieg veröffentlicht, darunter "The Devil´s Alliance" und "First to Fight".
Adam Zamoyski ist als Bestsellerautor bekannt für seine Werke zur Ideen- und Sozialgeschichte politischer Revolutionen, wichtiger Ereignisse und Epochen der polnischen Geschichte, darunter "Poland. A History" sowie "The Forgotten Few: The Polish Air Force in the Second World War" und vielem mehr.
Moderiert wird die Online-Diskussion von Dr. John Cornell, einem Historiker des Pilecki-Instituts in Warschau.
WIe kann man sich für beides registrieren?
Zunächst hier:
https://zoom.us/webinar/register/WN_xnOozVigSvChp7McqvdQQA?fbclid=IwAR3eu1sLRqmu2zIDFkoi3uLusYmZ4zdx6diHxUNOBSmiKHBHT-4kvNUHlnM
Daraufhin erhält man eine Mail mit Link für die Online-Diskussion, die morgen um 18 Uhr stattfindet, sowie ein Passwort mit welchem man sich die Doku heute und morgen hier anschauen kann:
https://vimeo.com/455408322?fbclid=IwAR3eu1sLRqmu2zIDFkoi3uLusYmZ4zdx6diHxUNOBSmiKHBHT-4kvNUHlnM
Organisator*innen:
Moreshet, Mordechai Anielevich Memorial