News
Living Archives with Rutu Modan
Am Samstag wird uns israels bekannteste Comiczeichnerin, eine wahre Comic-Legende, Einblicke in ihre Arbeit als Comickünstlerin gewähren.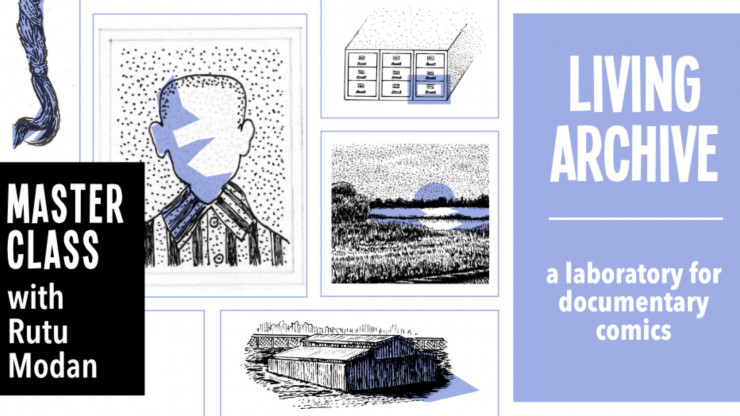 See below for the English version
Zoom Vortrag | Rutu Modan | 13.02.2021
Hier kann man sich registrieren: https://zoom.us/webinar/register/WN_DV3IjLkgTwaCO0pL3PbqNw
Rutu Modan aus Tel Aviv hat sich mit bislang drei großen Graphic Novels in die jüngere Comicgeschichte eingeschrieben: "Blutspuren" (Edition Moderne, 2008), "Das Erbe" (Carlsen Verlag, 2013) und zuletzt "Tunnel" (Carlsen Verlag, 2020), über eine heikle archäologische Grabungsstätte, ein illegaler Tunnel unter der Mauer zum Westjordanland. Ihre politischen und von betont eigenwilligen Protagonisten getragenen Geschichten haben sie zu Israels international bekanntester Comiczeichnerin gemacht.
In ihrer Masterclass im Rahmen des Projekts "Living Archive" gibt Rutu Modan Einblick in ihre Arbeit als Comicerzählerin, die in komplexer Weise mit dokumentarischem Material arbeitet – einerseits durch die fiktionalisierende Aneignung präzise dargestellter Zeitumstände und Orte, und andererseits durch ihre ganz eigene Methode des Umgangs mit fotografischen Vorlagen, die sie mit einem großen Stab realer "Darsteller" selbst inszeniert, und in ihre so klaren wie dennoch dynamischen Comic-Sequenzen überträgt, die ihren Ursprung kaum mehr erahnen lassen.
Dem Vortrag folgt eine von Kai Pfeiffer und Monika Powalisz moderierte Diskussion, bei der Rutu Modan auch Fragen aus dem Publikum beantworten wird.
---
Zoom lecture | Rutu Modan | 13.02.2021
Register here: https://zoom.us/webinar/register/WN_DV3IjLkgTwaCO0pL3PbqNw
Tel Aviv's Rutu Modan has recently written herself into comic book history with three great graphic novels: "Exit Wounds" (Drawn and Quarterly, 2007); "The Property" (2013); and most recently "Tunnels" (English version to come in October 2021) about a tricky archaeological site, an illegal tunnel under the wall to the West Bank. Her political stories, carried by emphatically idiosyncratic protagonists, have made her Israel's most internationally recognized comic book artists.
In her masterclass as part of the "Living Archive" project, Rutu Modan gives an insight into her work as a comic book storyteller who deals with complex documentary material; on the one hand, she presents the fictionalized appropriation of precisely depicted times, contexts and places, and on the other she uses her very own method of dealing with photographic presentation, which she stages herself with a large cast of real "actors" and then transfers into her clear and dynamic panels. The lecture will be followed by a discussion moderated by Kai Pfeiffer and Monika Powalisz, and Rutu Modan will also take questions from the viewers.
Unsere beiden Ausstellungen

news

Unsere beiden Ausstellungen

Hier finden Sie die wichtigsten Informationen zu unseren beiden Ausstellungen "Der Freiwillige. Witold Pilecki und die Unterwanderung von Auschwitz" und "Belarus lebt! Eine Ausstellung über die Protestbewegung in Belarus"

Architecture of Optimism

news

Architecture of Optimism

Building a Modern Capital in Kaunas, Lithuania, 1919–1939. Our next Exercising Modernity Lecture.

Die Eröffnung unserer Ausstellung "Lemkin. Zeuge des Genozid-Jahrhunderts".

news

Die Eröffnung unserer Ausstellung "Lemkin. Zeuge des Genozid-Jahrhunderts".

Die Ausstellung des Pilecki-Instituts über Raphael Lemkin, die vorher in Warschau zu sehen war, wird in Bochum erstmals in deutscher Sprache gezeigt. Lemkin prägte bekanntermaßen den Begriff des Genozids.