News
The English edition of "The Ładoś List"
Polish wartime diplomats in Switzerland in cooperation with Jewish organizations attempted to rescue between 8,000 and 10,000 Jews from Holocaust by providing them with fake Latin American documents, a new research study published by Warsaw-based Pilecki Institute reveals. The English-language version of the book was released in February under the patronage of the World Jewish Congress.
"This little-known story of rescue deserves to be better known and I welcome this English translation. It should be read by all those interested in the Holocaust and in Polish-Jewish relations during the Second World War", said Antony Polonsky, Emeritus Professor of Holocaust Studies at the Brandeis University and Chief Historian at the Museum of Polish Jews in Warsaw.
A list of 3,253 names of Jews who were in possession of so called 'Ładoś passports', named after the Polish ambassador to Switzerland in 1940–45, has been published by the Institute, after a two-year research study conducted together with the Jewish Historical Institute, Auschwitz-Birkenau Memorial and Museum and the Polish Institute of National Remembrance.
The full index of names is available online (please click here).
"The Ładoś List" is one of the largest Holocaust research projects conducted during recent years. The study was conducted in many archives, including Bad Arolsen, Yad Vashem, the Polish Central Archives of Modern Records and many others", Pilecki Institute's director Dr. Wojciech Kozłowski said.
The paper reveals that between 24 and 45% of Jews who were in possession of Polish-forged documents of Paraguay, Honduras, Haiti and Peru, managed to survive the Holocaust. Several dozen of them are still alive.
"The real number of the survivors is much larger. We estimate that the Ładoś group contributed to the rescue of between 2,000 and 3,000 people", the study's editor Dr. Jakub Kumoch said.
Research conducted has shown that the Ładoś Group helped Jews from various European countries, however the majority of the identified passports were used by people from occupied Poland and the Netherlands. "As regards the documented group of survivors, the majority were Jews from Poland, the Netherlands and Germany", explained Monika Maniewska, an archivist from the Pilecki Institute and one of the co-authors of "The Ładoś List".
"The Ładoś List" was originally published in December 2019 and since its premiere in Poland, a lot of readers came forward to confirm and complete the data. The English edition, enriched with the life stories of over 50 people, is now being published. The Pilecki Institute will present it during the following events:
24 February – London, The Wiener Holocaust Library
27 February – New York, Hebrew Union College – Jewish Institute of Religion
28 February – Hartford, Mandell JCC Innovation Center
The English version of The Ładoś List is available on ebay.com (please click here).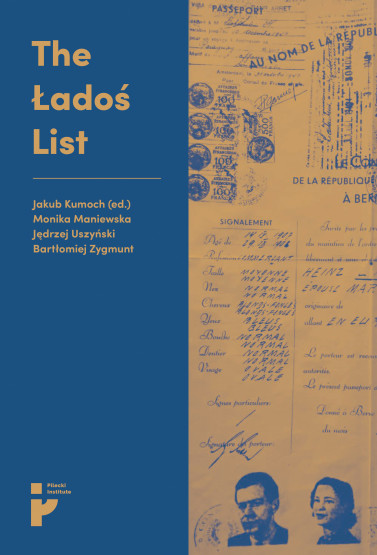 The published list contains the names of, for example, several famous fighters of the 1943 Warsaw Ghetto Uprising, including Zivia Lubetkin and Yitzchak Zuckerman, as well as leaders of Jewish resistance from Slovakia, France and Italy. One of the thousands of people who had Ładoś passports was also Mirjam Finkelstein, mother of Lord Daniel Finkelstein – British politician and associate editor of "The Times" (Lord Finkelstein will tell his family story during the event in London). Another documented case is that of Anne Frank's best friend Hannah "Hanneli" Goslar.
Ambassador Ładoś, who during the German occupation of Poland represented the London-based Polish government in exile, authorized his diplomats to fabricate documents of third countries in an attempt to help rescue at least part of the country's 3,500,000-strong Jewish community.
Ładoś passports were meant to protect their holders from being sent to the German Nazi death camps. The passports were sent to citizens of a dozen European states who were interred in concentration camps and ghettoes in occupied Poland and the Netherlands.
Almost half of the passports and citizenship certificates of Paraguay were forged by Ładoś's vice-consul Konstanty Rokicki and a minor part by his deputy Stefan Ryniewicz and in both instances, with noticeable help of the Embassy's Jewish employee Juliusz Kühl.
Other documents, passports and certificates of Honduras, Haiti and Peru, were purchased, with authorization by Ładoś, by two Jewish members of the Ładoś Group – Abraham Silberschein and Chaim Eiss. In 1943, the whole operation received the support of the Government of Poland which pressured Latin American states to recognize these fake documents for humanitarian reasons.
Director Kozłowski said that although 3,253 names have been established, some 5,000–7,000 are still missing. "We sincerely hope to receive the help of Jewish communities worldwide to find out the identities of these additional people. We believe that there is no further possibility to identity any other names by archival research. During the last two years the authors have done really very much. Now it's time for the families of survivors and victims to tell their story", he said.
The list has been uploaded at Pilecki Institute's website. For more inquiries call:
Martyna Wojtkowska
Pilecki Institute Press Office
+48 539 537 646
m.wojtkowska@instytutpileckiego.pl
Forward, into the past! Russia and politics of memory

news

Forward, into the past! Russia and politics of memory

Russian authorities started a campaign to close Memorial, the country's leading independent civil society group that has contributed immensely to the preservation of historical memory in the Soviet Union and Russia.

Ein großer Poet des "Extremen Jahrhunderts"

news

Ein großer Poet des "Extremen Jahrhunderts"

Vor knapp über 23 Jahren, am 28. Juli 1998, war Zbigniew Herbert alias Herr Cogito, der große polnische Lyriker, Dramatiker und Essayist, von uns gegangen. Selbst der Stalinismus vermochte es nicht, sein Rückgrat zu brechen.

Codename: Żegota

news

Codename: Żegota

Der Rat zur Unterstützung der Juden rettete tausenden polnischen Juden das Leben im von NS-Deutschland besetzten Polen.