News
Open Call: Living Archive – ein Labor für dokumentarische Comics
Wir suchen zwölf Comic-KünstlerInnen zur Teilnahme an einem dokumentarischen Comic-Projekt in Berlin.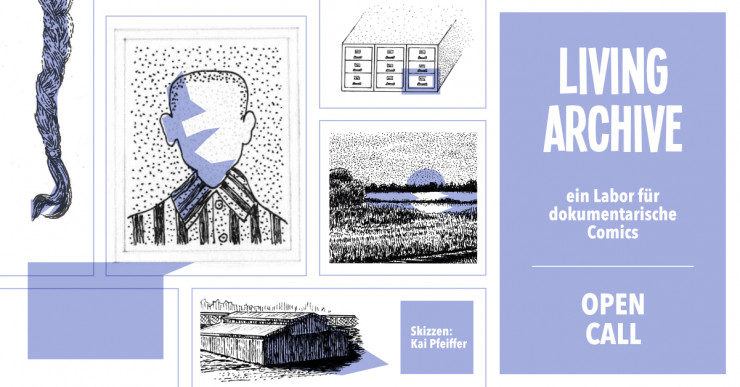 English below / PDF in English / PDF in German
Das Pilecki-Institut, eine unabhängige Forschungs- und Wissenschaftseinheit im Herzen Berlins, hat beschlossen, sich dem Comic zu öffnen:

Wir wollen eine Laborsituation schaffen, in der sich eine Gruppe von Comic-Künstlern gemeinsam über zwölf individuelle, kurze Comics austauscht. Dabei wollen wir uns offen zeigen für Experimente mit der Form des dokumentarischen Comics, bzw. des Comic-Essays, und seinen narrativen, informativen und poetischen Möglichkeiten, die zusätzlich durch die Einbindung von historischem Quellenmaterial gegeben sind.

Unser Institut digitalisiert seit 2019, gemäß einer mit dem Bundesarchiv unterzeichneten Vereinbarung, Schlüsseldokumente zum 20. Jahrhundert, die sich im Besitz des Archivs befinden. Wir möchten, dass die Archive und die in ihnen verborgenen Geschichten nicht nur das Interesse akademischer Kreise wecken, sondern mit Hilfe von dokumentarischen Comics auch bei einem breiteren Publikum Anklang finden.
Im Fokus steht dabei die Geschichte der letzten 70 Jahre des 20. Jahrhunderts – und nicht zuletzt ihrer totalitärer Exzesse – da sie entscheidend ist für das Verständnis und die weitere Entwicklung demokratischer Ansätze für eine konstruktive und dauerhaft friedliche Zusammenarbeit zwischen den Völkern Europas.

Die Teilnehmenden erarbeiten im Laufe des Projekts jeweils einen eigenen Comic mit einem Umfang von ungefähr 12-16 Seiten.
Ergebnis am Ende der acht Monate soll eine gemeinsame Publikation sein, die durch das Pilecki-Institut herausgegeben und in Koproduktion mit einem Verlag (tba) realisiert wird.

Die künstlerische Leitung des Projekts übernehmen Ulli Lust (Comiczeichnerin, Professorin Hochschule Hannover), Kai Pfeiffer (Comiczeichner, Dozent, Kurator) und Monika Powalisz (Schriftstellerin, Dramatikerin, Comic-Szenaristin).
In monatlichen Treffen im Pilecki-Institut und an anderen Orten in Berlin werden wir gemeinsam die verschiedenen Stadien des Entstehungsprozesses der Comics diskutieren sowie uns im Zuge dessen mit jeweils neuen Aspekten des dokumentarischen Comics beschäftigen, angeregt durch Vorträge der Projektleiter und besondere Programmpunkte, wie z.B. die Einführung in die Archivarbeit und Recherche anlässlich eines gemeinsamen Besuchs des Bundesarchivs in Berlin. Zudem werden uns die Mitarbeiter des Pilecki-Instituts begleiten und mit Beratung, Anregung und Fakten-Checks mit Rat und Tat zur Seite stehen.

Ergänzt wird das Programm durch internationale Gäste, die in eintägigen Begegnungen mit den Teilnehmenden aus ihrer Praxis berichten, ihre Methoden vorstellen und auf die Arbeiten der Projektteilnehmenden reagieren, gefolgt von öffentlichen Vorträgen mit anschließender Podiumsdiskussion.
Zugesagt haben bislang u.a. Rutu Modan ("Das Erbe"), Birgit Weyhe ("Im Himmel ist Jahrmarkt"), Leela Corman ("Unterzakhn") und Emmanuel Guibert ("Der Fotograph").

Wir wollen das Projekt in ersten Vorbesprechungen mit der Gruppe der zwölf Autoren, bzw Autoren-Teams Ende Juni bzw. Anfang Juli dieses Jahres starten – die eigentliche Arbeit im Monatstakt beginnt ab September 2020.
Zusätzlich zu den monatlichen Treffen sind individuelle Konsultationen mit den Projektleitern per Email und Video-Anruf möglich.

Das Programm wird vorrangig in englischer Sprache durchgeführt; einzelne Programmpunkte und individuelle Besprechungen sind auch auf Deutsch möglich.

Sämtliche Programmpunkte, auch die Treffen mit den internationalen Gäste, und die Art ihrer Durchführung vor Ort unterliegen selbstverständlich den gebotenen Regeln und Sicherheitsvorkehrungen während der im Herbst und Winter 2020/21 sicherlich noch nicht ausgestandenen Covid-19 Pandemie.

Die Teilnehmerzahl ist auf zwölf Comickünstler, bzw Autoren-Duos begrenzt. Bewerben können sich volljährige Personen, die in Berlin ansässig, bzw. in der Lage sind, ohne größere Mühe nach Berlin zu kommen, um am monatlichen Programm vor Ort teilnehmen zu können.

Die Teilnahme erhalten nach Fertigstellung ihres Comic-Beitrags zum Abdruck in der geplanten, gemeinsamen Comic-Anthologie eine Vergütung von 1.500 Euro


Bewerbung:
Die BewerberInnen werden gebeten, ihre Bewerbungen spätestens bis zum 15.06.2020 um 20:00 Uhr per E-Mail an folgende Adresse zu senden: apply@pileckiinstitut.de. Bitte fügen Sie der Nachricht den Betreff "Living Archive" bei.

Die Bewerbung sollte enthalten:
Arbeitsproben als Pdf, ergänzt durch Links zu Websites und anderen Internet-Auftritten, soweit vorhanden. Da es sich bei den Workshops nicht um eine Zeichenübung handelt, müssen die BewerberInnen bereits Erfahrungen mit dieser künstlerischen Form mitbringen. Bitte widmen Sie dem Bewerbungsschreiben folgenden Titel: "Living Archive"
Unterschriebene und eingescannte Formulare:
Akzeptierte Sprachen der Bewerbungsunterlagen: Englisch, Polnisch und Deutsch.
Die Auswahl der Teilnehmenden wird bis zum 25.06.2020 getroffen. Die Liste der KandidatInnen wird auf der Website des Pilecki-Instituts veröffentlicht. Darüber hinaus werden alle BewerberInnen per E-Mail benachrichtigt.
Die Organisierenden sind nicht dazu verpflichtet, die Entscheidung des Bewertungsausschusses zu begründen. Es kann kein Rechtsanspruch erhoben werden.
Wenn Sie sich für die Teilnahme am Projekt qualifiziert haben, wird der Inhalt dieses Dokuments eine Anlage zu dem zwischen der Kandidatin/dem Kandidaten und dem Pilecki-Institut geschlossenen Vertrag darstellen.
Bitte stellen Sie eventuelle Fragen an: apply@pileckiinstitut.de


Kurzbiographien

Ulli Lust

geboren 1967, emigrierte 1995 von Wien nach Berlin. Seither zeichnet sie Comicreportagen mit pointierten Beobachtungen aus dem modernen Alltag, wie etwa den Bericht über ein Berliner Einkaufszentrum (in "Fashionvictims, Trendverächter - Comicreportagen aus Berlin" avant-Verlag, 2008) Im Herbst 2009 erschien ein umfangreicher Comic über ihre Jugendzeit, in dem sich Reise- und Schelmenroman mit einem existentiellen Teenagerdrama verbinden: "Heute ist der letzte Tag vom Rest Deines Lebens" (avant-verlag). Das Buch wurde in mehrere Sprachen übersetzt und mit Preisen ausgezeichnet, darunter den Prix de Revelation am Comicfestival in Angouleme, den Ignaz Award und den LA Times Book Award in den USA.
2013 erschien "Flughunde" im Suhrkamp-Verlag, eine Comicadaption des gleichnamigen Romans von Marcel Beyer. Ihre autobiographische Graphic Novel über eine ungewöhnliche Dreierbeziehung "Wie ich versuchte ein guter Mensch zu sein" (Suhrkamp, 2017) schaffte es 2018 in die Shortlist für den "Fauve d'or" in Angouleme und gewann einen Ink-Pot-Award der Comicon in SanDiego.
Seit September 2013 lehrt sie Professorin Zeichnung & Comic an der Hochschule Hannover.

Kai Pfeiffer

Geboren 1975 in Berlin, lebt dort als Comicautor und bildender Künstler. Diverse Comic-Projekte zwischen Fiktion, Abstraktion und Reportage. Sein erstes Buch »Opérations esthétiques« wurde 2000 von Le Dernier Cri (Marseille) publiziert. 2012 erschien "Radioactive forever", sein dokumentarischer Comic über die Reaktorkatastrophe von Tschernobyl in Japan (in »No Nukes«, Hrsg. Ryuichi Sakamoto). Seine Werkreihe »Realm« erforscht den Raum visueller Narration in »konkreten«, bzw, so der Autor, »molekularen« Zeichnungen, u.a. in »LAND«, »stadtelphen«, »Glory Hole« (in: »Strapazin«). Herausgeber der Anthologien »Plaque« und »flitter« (avant-verlag), Kurator mehrerer Comic-Ausstellungen, u.a. im Kunsthaus Dortmund, Comicon Neapel.
2009-2014 lehrte er Comic in der Klasse Illustration & Comic an der Kunsthochschule Kassel. Zahlreiche Workshops, Seminare und Vorträge an internationalen Institutionen.
Lektor (u.a. "Heute ist der letzte Tag vom Rest deines Lebens" von Ulli Lust, avant-verlag) und Übersetzer ("Der Jude von New York" von Ben Katchor, avant-verlag). 2015 erschien »Glücklich wie Blei im Getreide«, in Zusammenarbeit mit dem österreichischen Autor Clemens Setz, bei Suhrkamp. 2018 drehte er gemeinsam mit Ulli Lust in Co-Regie den Dokumentarfilm "Urwald" für arte square, für den er zudem Filmmusik und Sounddesign beitrug. Die halbdokumentarische Comicstrip-Serie "Der Flaneur", in Zusammenarbeit mit dem Zeichner Tim Dinter, erschien 2003 in den "Berliner Seiten" der FAZ und 2019 erstmals gesammelt als Buch bei Breitkopf Editionen. Seit 2011 Künstler-Duo mit der Brüsseler Zeichnerin Dominique Goblet. Ihre erste Graphic Novel, "Plus si entente", erschien 2014 auf französisch bei Frémok und Actes sud, die deutsche Ausgabe, "Bei Gefallen auch mehr …" folgte im Frühjahr 2019 im Berliner avant-verlag.

Monika Powalisz

Absolventin der Fakultät für Polnische Philologie an der Universität Łódź und Fakultät der Theaterregie an der Theaterakademie in Warschau sowie der Andrzej-Wajda-Meisterschule für Filmregie in Warschau. Bevor sie sich für das Studium einschrieb, debütierte sie 1992 mit dem Drama "Rapsod dla krowy" und erhielt den Hauptpreis im Wettbewerb "Szukamy Polskiego Szekspira" der von der Organisation Assita Poland organisiert wurde.
Das Schreiben von Dramen und Geschichten war viele Jahre lang der Hauptbereich ihrer Tätigkeit. Als Dramatikerin war sie Mitbegründerin der Dramen-Gruppe G8 und des Wytwórnia-Theaters. Sie nahm zudem am Projekt Drama-Laboratorium des Nationaltheaters teil. Für den Warschauer Fernsehsender TR Warschau schrieb Powalisz das Werk "Portret Heleny S.", welches im Jahr 2007 unter der Regie von Aleksandra Konieczna im Teatr Rozmaitości unter dem Titel "Helena S." aufgeführt wurde. 2007 begann die Autorin auch Text- und Drehbücher für Film, Fernsehen und Comics zu schreiben. 2007 gewann ihr Skript für den Comic "Ostatni koncert" (Zeichner Tymek Jezierski) den Hauptpreis beim Wettbewerb "Powstanie '44 w komiksie" ("Warschauer Aufstand ´44 im Comic") des Museums des Warschauer Aufstands. 2012 veröffentlichte sie eine Comic-Anthologie mit dem Titel "Złote pszczoły. Żydzi międzywojennej Warszawy", welches von der Jüdischen Gemeinde in Warschau veröffentlicht wurde. Ein Jahr später veröffentlichte sie den Comic "Płaszcz Ajewskiego" (Zeichner Tymek Jezierski).
Die Skripts zu Comics unter ihrer Urheberschaft wurden in Comic-Anthologien veröffentlicht, unter anderem in "Chopin. New Romantic" oder "Polski komiks kobiecy". 2015 schuf Powalisz für das Polin Museum in Warschau die Comic-Serie "Historie i kreski" (Zeichner Jacek Michalski), welche den Warschauer Juden gewidmet wurde. 2018 veröffentlichte sie ihren ersten Roman "Ósme ciało". Privat interessiert sich die Autorin für die Kunstgeschichte und Architektur der Moderne. Seit 2019 lebt Powalisz in Berlin.
Living Archive - a laboratory for documentary comics
with Ulli Lust, Kai Pfeiffer and Monika Powalisz
We are looking for twelve comic artists to participate in a documentary comic project in Berlin.
The Pilecki Institute, an independent research unit in the heart of Berlin, has decided to enter the world of comics.
We want to create a laboratory situation in which a group of comic artists exchange their ideas and experiences, working together on twelve short individual comic strips - experimenting with the form of the documentary comic, or comic essay, and its narrative, informative and poetic possibilities, using historical source material.
Since 2019, our institute has been digitizing key documents related to the 20th century that are in the possession of the German Bundesarchiv, in accordance with an agreement signed between the two institutions. We would like the stories we have made accessible to reach an audience not only in academia but also in broader society through the medium of documentary comics.
The history of the last 70 years of the 20th century is crucial for the development of a proper approach to the challenges of the modern day, and for building consensus and constructive cooperation between European peoples.
In the course of the project, the participants will each create their own comic strip of approximately 12-16 pages.
The result at the end of the eight months should be a joint publication, edited by the Pilecki Institute and realized in co-production with a publishing house (tba).
The artistic direction of the project will be led by Ulli Lust (comic illustrator, professor at the University of Applied Sciences and Arts Hanover), Kai Pfeiffer (comic illustrator, lecturer, curator) and Monika Powalisz (writer, playwright, comic scenarist).
In monthly meetings at the Pilecki Institute and other locations in Berlin, we will jointly review and discuss the state of comics throughout their creation, as well as explore new aspects of documentary comics, stimulated by lectures by the project leaders and special program items, such as an introduction to archive work and research during a visit to the Federal Archives in Berlin. In addition, the staff of the Pilecki Institute will provide advice, suggestions and fact-checking.
The programme will be supplemented by one-day meetings with international guests who will report on their practical experience, present their methods of work and engage with to the work of the project participants, followed by public lectures with a panel discussion.
Among those who have so far confirmed their participation are Rutu Modan ("The Heritage"), Birgit Weyhe ("Im Himmel ist Jahrmarkt"), Leela Corman ("Unterzakhn") and Emmanuel Guibert ("The Photographer").
We want to start the project with preliminary meetings with the group of twelve authors, or teams of authors, at the end of June or the beginning of July this year. The actual monthly program will begin in September 2020.
In addition to the monthly meetings, individual consultations with the project leaders are possible via email and video call.
Classes and workshops will be conducted in English, while individual consultations will be conducted in both English and German.
The project's programme, as well as the open meetings and master classes with foreign guests, will be carried out in accordance with the necessary rules and safety precautions demanded by the current state of the development of the Covid-19 pandemic.
The number of participants is limited to twelve comic artists or author-duos. Applications can be submitted by persons of full age who are resident in Berlin or who are able to attend the monthly programme onsite in Berlin without any problems.
Authors whose works will be published in the form of an anthology will receive an artistic fee of EUR 1,500 gross.
Applications:
Candidates are invited to send applications via e-mail to the following address: apply@pileckiinstitut.de by 20:00 on 15.06.2020. Please include the title "Living Archive" in the subject of the message.
Applications should include:
artistic biography or portfolio;
samples of work (comics, storyboards) or a link to previous publications. Due to the fact that the workshops do not include drawing classes, it is required that applicants have experience with this artistic form;
- Accepted languages for application documents: English, Polish and German;
recruitment will be decided by 25.06.2020, the list of candidates will be posted on the website of Pilecki Institute (www.pileckiinstitut.de). All applicants will also be notified by email;
- The organizers are not required to justify the evaluation committee's decision. We do not anticipate an appeal procedure;
- If qualified for participation in the project, the content of this document will be an attachment to the contract concluded between the candidate and the Pilecki Institute;
- Please send any questions or concerns to: apply@pileckiinstitut.de
Short biographies
Ulli Lust
Ulli Lust, born in 1967, emigrated from Vienna to Berlin in 1995. Since then, she has been drawing comic documentaries with pointed observations drawn from modern everyday life, such as a report on a Berlin shopping center (in Fashionvictims, Trendverächter - Comicreportagen aus Berlin, 2008). In autumn 2009, a comic about her youth appeared in the form of a travel and picaresque novel combined with an existential teenage drama Heute ist der letzte Tag vom Rest Deines Lebens. The book has been translated into multiple languages and has received several awards, including the Prix de Revelation at the Angouleme Comic Festival, the Ignaz Award and the LA Times Book Award in the United States.
In 2013, Lust's book Flughunde, a comic adaptation of Marcel Beyer's novel of the same name, was published by Suhrkamp-Verlag. Her autobiographical graphic novel about an unusual tripartite relationship Wie ich versuchte ein guter Mensch zu sein (Suhrkamp, 2017) made it onto the shortlist for the Fauve d'or in Angouleme in 2018 and won an Ink-Pot Award from Comicon San Diego.
She has been teaching drawing and comics at Hanover University since September 2013.
Kai Pffeifer
Born in Berlin, Kai Pffeifer now lives there as a comic book author and visual artist, creating various comic projects which cover fiction, abstraction and reportage. His first book Opérations esthétiques was published in 2000 by Le Dernier Cri (Marseille). Radioactive forever, his documentary comic about the Chernobyl reactor disaster, was released in Japan in 2012, (in No Nukes, ed. Ryuichi Sakamoto). His series Realm explores the space of visual narration in "concrete" or, as the author puts it, "molecular" drawings, among others, including in LAND, stadtelphen, and Glory Hole (in: Strapazin). He is the editor of the anthologies Plaque and flitter, the curator of several comic exhibitions, including at the Kunsthaus Dortmund and Comicon Napoli.
Pffeifer taught comics at the Illustration & Comic class at the Kassel Art School between 2009 and 2014, as well as numerous workshops, seminars and lectures at international institutions.
He is an editor (including Heute ist der letzte Tag vom Rest deines Lebens by Ulli Lust) and a translator (Der Jude von New York by Ben Katchor). In 2015, Glücklich wie Blei im Getreide was published by Suhrkamp in collaboration with the Austrian author Clemens Setz. In 2018, he co-directed the documentary film Urwald with Ulli Lust for arte square, for which he also contributed music and sound design. The semi-documentary comic strip series Der Flaneur, in collaboration with the illustrator Tim Dinter, appeared in 2003 in the Berliner Seite of the Frankfurter Allgemeine Zeitung. Since 2011, he has been part of an artistic duo with the Brussels artist Dominique Goblet. Her first graphic novel, Plus si entente, was published in 2014 by Frémok and Actes sud in French, the German edition, Bei Gefallen auch mehr… followed in spring 2019.
Monika Powalisz
A graduate of the Department of Polish Philology at the University of Łódź, the Department of Theatrical Directing at the Theater Academy in Warsaw and the Wajda School in Warsaw. Prior to attending university, she debuted with the drama Rapsod dla Krowy in 1992, for which she won the first prize in the competition "Szukamy Polskiego Szekspira" organized by Assitej Polska.
Writing dramas and stories was her main work for many years. As a playwright, she co-founded the G8 Playwrights Group and the Wytwórnia Theater. She participated in the National Theater Drama Laboratory project. She wrote the play Portret Heleny S. as part of the TR/PL program, which premiered at Teatr Rozmaitości in 2007, directed by Aleksandra Konieczna. In 2007, the author also began to write scripts for film, television and comic books. In 2007, her script for the comic Ostatni Koncert (cartoonist Tymek Jezierski) won the first prize in the Warsaw Rising Museum's competition "Uprising '44 comics". In 2012, the Jewish Community in Warsaw published her comic book anthology entitled Złote pszczoły. Żydzi międzywojennej Warszawy. A year later, she published the comic Płaszcz Ajewskiego (cartoonist Tymek Jezierski).
The scripts for her comics have been published in comic anthologies such as Chopin. New Romantic and Polski Komiks kobiecy. In 2015, she created the series of comics Historie i kreski (cartoonist Jacek Michalski) for the Polin Museum in Warsaw, devoted to Warsaw's Jews. In 2018, she published her first novel, Ósme ciało. Privately, the author is interested in art history and modernist architecture. She has been living in Berlin since 2019.