Józsefné Margit Károlyi - Instytut Pileckiego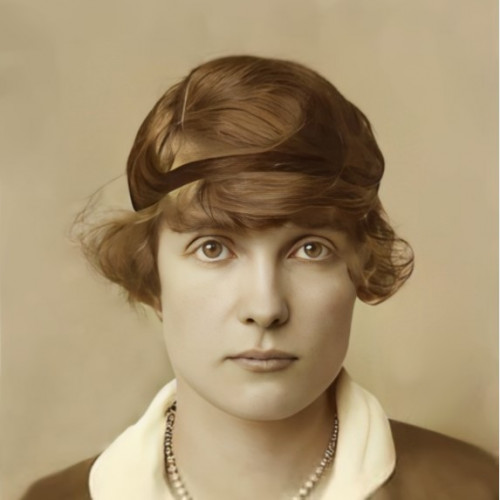 From the first days of the Second World War, many representatives of the Hungarian elite were involved in helping the Polish refugees in Hungary. One of them was Countess Margit Károlyi Józsefné.
Even before the war, she put all her energy into social activities following the death of her husband. She was the patron of the Women's Christian League in Székesfehérvár. She was a trained nurse and worked for the Child Care Association. It was Károlyi who initiated the Refugee Aid Committee in Budapest on 29 September 1939. In the following days, she personally received thousands of Poles fleeing the war at the border and directed them into the country to find accommodation. The organization she created soon became the Hungarian-Polish Refugee Welfare Committee, of which she became the first chairwoman.
The Countess visited camps organized by the state authorities, distributing parcels of clothing and footwear. She took over the payment of allowances to civilian refugees in the Dunamocs and Párkány-Nána camps. She intervened in the Szob camp, where items sent for refugees by the Red Cross were going to warehouses instead of being distributed to those in need.
In addition, she helped to send food parcels to families in Poland, as well as to Polish soldiers in German POW camps. In 1941, after negotiations with Regent Miklós Horthy, arrested Poles were released. Furthermore, Károlyi together with Countess Szápáry helped to find suitable accommodation for the wives and children of Polish officers.
The Committee was a thorn in the Germans' side. After they entered Hungary on 19 March 1944, the Gestapo closed its headquarters. During its four years of activity under the leadership of Countess Károlyi, the Committee had helped thousands of Poles in Budapest and in 37 camps throughout the country.
Gábor Dóró, an associate of the countess, wrote about the work of the organization and described the Hungarian-Polish Refugee Committee as a small island for humanity in an immense ocean of evil.
Ján Klinovský

awarded

Ján Klinovský
(1905–1944)

Ján Klinovský showed interest in Poland already as a teenager. He was from Orava, the region located at the border between Slovak and Polish cultures.

Anna Jelínková (1918–2009)

awarded

Anna Jelínková (1918–2009)

During the war the Jelíneks saved more than 40 people: the Jewish families of Fischer and Fronk, the Polish family of Siekierski, Feliks Zubkiewicz, whose loved ones were killed by the Ukrainian Insurgent Army, and the Ukrainian family of Lutsyuk.

Anatolij Giergiel (1904—1981)

awarded

Anatolij Giergiel (1904—1981)

In the summer of 1943 in Volhynia, having learned about a planned attack by Ukrainian nationalists on Poles, Anatolyi Giergiel warned his friend.