News
Memory Wars II - Erinnerungskriege im heutigen Europa
Unsere nächste Zoom-Debatte am 26.Juni mit Richard Herzinger, Rebecca Harns und Lukasz Adamski. Mateusz Fałkowski wird die Diskussion moderieren.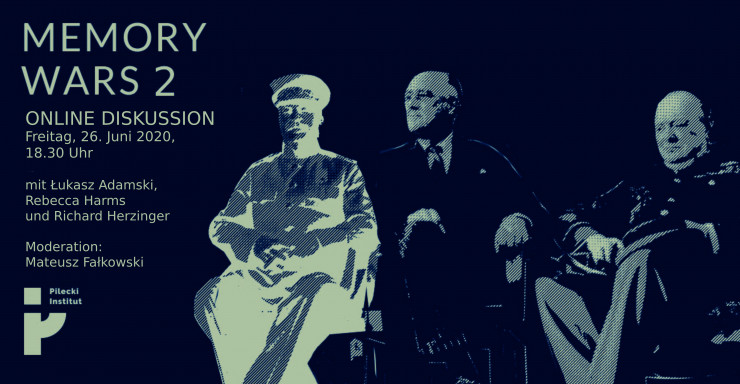 English version below / Simultaneous interpretation in English will be provided
Freitag, 26.Juni 2020, 18.30 Uhr | Zoom-Debatte | Dr. Łukasz Adamski, Rebecca Harms und Dr. Richard Herzinger | Moderator: Mateusz Fałkowski

"Memory Wars 2"

Hier können Sie sich anmelden: https://zoom.us/webinar/register/WN_-Yb5-IUJTTyj2JIeKdKpjQ

Auf internationaler Ebene lässt sich ein mit steigender Intensität und mit Hilfe divergierender historischer Perspektiven geführter Hegelscher Kampf um Anerkennung beobachten. Verschiedene Akteure an unterschiedlichen Orten der Welt erinnern an jeweils eigene Opfer und Helden des Zweiten Weltkriegs. Ob in Polen, Russland, Deutschland oder Amerika – selbst die Frage nach dem eigentlichen Kriegsbeginn und dem Kriegsende wird durch eine national gefärbte Perspektive wahrgenommen. Hinzu kommt die global gesehen immer noch fragile Coronalage. Traditionelle offizielle Jubiläumszeremonien waren nicht möglich – man verlegte sie zeitlich oder ließ sie in virtuellen Räumen stattfinden, bisweilen wurden sie gänzlich abgesagt.

In Russland wurde die angekündigte große Parade zum Jahrestag des Endes des Großen Vaterländischen Krieges aufgrund der Epidemie auf den 24. Juni verschoben. Viele Beobachter interpretieren diese Entscheidung jedoch im Lichte von Wladimir Putins Neujahrsbotschaft, welche besagt, dass der Kreml seine politisch instrumentalisierten Narrative über den Zweiten Weltkrieg im Dienste sowohl innen – als auch außenpolitischer Ziele einsetzen werde. Kann man also davon ausgehen, dass das Ringen um die historische Deutungshochheit auch dieses Jahr weiter an Dynamik gewinnen wird?

In der zweiten Veranstaltung der Debattenreihe "Memory Wars" diskutieren wir mit Łukasz Adamski, Rebecca Harms und Richard Herzinger. Was will uns die Militärparade des Kremls eigentlich vermitteln? Wie sehen die gängigen Reaktionen aus und was offenbaren sie uns über die aktuellen weltpolitischen Machtverhältnisse? Wie lässt sich der aufkeimenden Hyperpolitisierung von Geschichte und Kultur am besten Einhalt gebieten?

Teilnehmende:

Dr. Łukasz Adamski ist Historiker und außenpolitischer Experte, stellvertretender Direktor des Zentrums für polnisch-russischen Dialog und Verständigung

Dr. Richard Herzinger arbeitet als Publizist in Berlin, schreibt u.a. für "Die Welt" sowie "Internationale Politik"

Rebecca Harms ist eine deutsche Politikerin (Die Grünen), von 2014 bis 2019 war sie Mitglied des Europäischen Parlaments
Die erste Memory Wars Debatte:
Memory Wars 2

Friday, 26 June 2020, 18.30 | Zoom-Debate | Dr. Łukasz Adamski, Rebecca Harms und Dr. Richard Herzinger | Moderator: Mateusz Fałkowski

Sign up here: https://zoom.us/webinar/register/WN_-Yb5-IUJTTyj2JIeKdKpjQ

On an international level, we witness an intensifying Hegelian struggle for recognition aiming to establish discursive hegemony within the realm of history. Different people in various places in the world remember their respective victims and heroes of World War II. Whether in Poland, Russia, Germany or the United States, even the actual date of start and end of the war is viewed through national lenses. The pending corona pandemic adds to the global instability. Long-established official commemoration ceremonies could not be held. They were postponed, moved to virtual platforms or sometimes completely cancelled.

In Russia, the big parade scheduled to commemorate the anniversary of the end of the Great Patriotic War was postponed to June 24, due to the pandemic. Many political observers see a connection between this decision and Vladimir Putin's speech on New Year's Eve, in which he hinted that the Kremlin intends to pursue a domestic as well as foreign policy agenda by politically instrumentalizing its narratives of World War II. Is it safe to assume that the wrestling about interpretational sovereignty is picking up momentum yet for another year?

The participants of the second upcoming event of the "Memory Wars"-discussion-series will be Łukasz Adamski, Rebecca Harms and Richard Herzinger. What is the real message of the Kremlin's military parade? What will be the common responses and what do they reveal to us about the current geopolitical power structure? What is the best way to counteract the growing trend to politicize history and culture?

Debaters

Dr. Łukasz Adamski is a historian and an expert on foreign policy and deputy director of the Centre for Polish-Russian Dialogue and

Dr. Richard Herzinger works in Berlin as a publicist, he has just introduced his own political page "hold these truths", his articles were published among others by "Die Welt" "Die Zeit" and "Internationale Politik.

Rebecca Harms is a German politician (Die Grünen). From 2014 to 2019, she was a member of the European Parliament.

Moderator:

Mateusz Falkowski is a historian and sociologist with a keen interest in the Solidarity Movement
Artikel: Ein frühes Dokument der Freiheit

news

Artikel: Ein frühes Dokument der Freiheit

Als die damalige geopolitische Lage in der ersten Teilung des Landes durch Preußen, Österreich und Russland gipfelte, trat im ersten Augenblick eine nachvollziehbare Schockwirkung ein, sie ging jedoch schnell in einen immensen Reformeifer über.

Online-Diskussion am 05.05.2021

news

Online-Diskussion am 05.05.2021

Am 3. Mai 1791 wurde in Warschau eine Verfassung verkündet, welcher, als einem der ersten modernen Dokumente dieser Art, eine Vorreiterrolle zukam und die als Ausgangspunkt der Bildung einer modernen polnischen politischen Nation gilt.

Das Interview mit unserer Chefin Hanna Radziejowska im "Spiegel"

news

Das Interview mit unserer Chefin Hanna Radziejowska im "Spiegel"

Hier finden Sie auch die polnische Übersetzung.