Rodzina Gorius - Instytut Pileckiego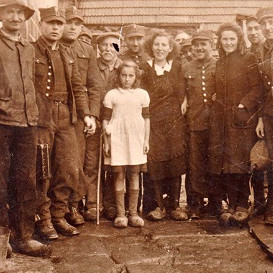 Eugène Gorius (1873–1953) ● Marie Gorius (1881–1971) ● Léon Humbert (1900–1969) ● Rosalie Eugénie Fogel Gorius (1919–2007) ● Jeanine Humbert Hermann (ur. 1934)
The Gorius family ran a farm in the village of Fréland on the slopes of the Vosges in Alsace. In summer 1940, this part of France was incorporated into the Third Reich. The family was rather averse to the Germans and maintained close contact with Father Raymond Voegeli, who cooperated with the French resistance movement.
In 1941, the Germans established a POW camp near the Gorius farm, where Polish soldiers were held captive among other prisoners. With the permission of the guards, the Poles were allowed to leave the camp to help local farmers in their work. It was an opportunity for the prisoners to break the monotony of camp life and establish closer relations with the local populace.
In summer 1944, Father Voegeli approached Léon Humbert, stepson of the farm owner Eugène Gorius, asking him to provide shelter for Polish prisoners after their expected escape from the camp. Léon's stepsister, Rosalie Gorius (married name Fogel since 1947), convinced her parents Eugène and Marie to take the risk. On 26 August 1944, Marie Gorius wrote a message to the prisoners in German: "This night escape down the road." Rosalie delivered the note to the camp. At night, Rosalie and Léon led the Poles to a hideout in an old mine and cut the telephone wire by the camp, thus delaying the German response.
After a few days, the fugitives moved to a barn on the Gorius farm. All family members took care of the escaped prisoners. Léon Humbert's goddaughter, 10-year-old Jeanine Hermann (married name Humbert), brought them the food collected by Father Voegeli and warned them when the Germans approached the hiding place. The Poles returned the favor by helping their hosts at work, and the Gorius family introduced them as their distant cousins. Although even the Gestapo participated in the search for the escapees, the Poles stayed at the Gorius farm until the Americans arrived there at the beginning of December 1944.
In recognition of their help for the resistance movement, the family was honored by the French authorities after the war. For several years, Rosalie Gorius exchanged letters with the Poles whom she had met during the war and cultivated the memory about them in the local community.
Anatolij Giergiel (1904—1981)

awarded

Anatolij Giergiel (1904—1981)

In the summer of 1943 in Volhynia, having learned about a planned attack by Ukrainian nationalists on Poles, Anatolyi Giergiel warned his friend.

Stefan Jan Ryniewicz (1903—1988)

awarded

Stefan Jan Ryniewicz (1903—1988)

He was the deputy to Aleksander Ładoś. Ryniewicz's role was to provide diplomatic security to the whole operation.

Hélène Pionstka z d. Waldmann

awarded

Hélène Pionstka z d. Waldmann
(1921–2009)

In 1941, the Germans established a POW camp for Polish soldiers close to the farm of Émile and Alice Waldmann in Ursprung, Alsace.