Hélène Pionstka z d. Waldmann - Instytut Pileckiego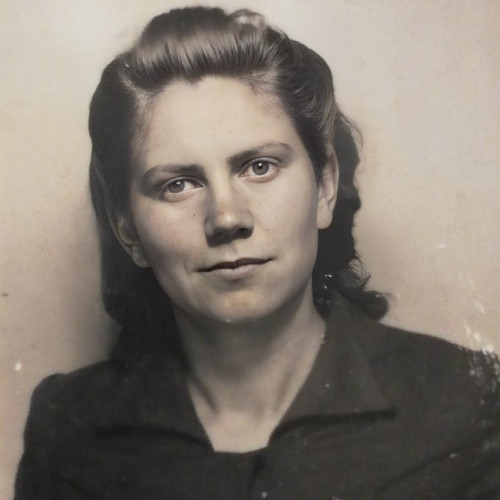 In 1941, the Germans established a POW camp for Polish soldiers close to the farm of Émile and Alice Waldmann in Ursprung, Alsace.
The Poles were allowed to leave the camp to help local farmers in their work. The prisoners came among others to the Waldmann family. Their daughter, then 20-year-old Hélène, became engaged in helping Polish POWs and established closer relations with one of them, Jan Piąstka.
After the Poles escaped from the camp on the night of 26 August 1944, Hélène went to see Jan in his hideout at the Gorius place. Her frequent visits posed the risk that the Germans might discover the fugitives. Hélène organized a new shelter for Jan at the house of her relatives, where she took care of him and brought him food.
Jan Piąstka lived to see Fréland liberated by the Americans at the beginning of December 1944. He served a few more years in the Polish Army. In the meantime, on 27 June 1945, Hélène and Jan got married. After Piąstka was released from the army in 1947, the spouses remained in Alsace and had two daughters. The family took residence in Ribeauvillé, where Jan tended to the monastery vineyard.
Three or four days later my father woke me up and said that someone was knocking on the window. I went to see and found out that it was one of the Polish prisoners (my future husband). The other prisoners resented him for it, as they feared I might tell someone. My mother did not want him to stay, so he went to hide at my cousin's place whose father was the guard's helper. I carried food for him every day; he spent the days in a room downstairs and at night he slept in the hay. No one but us knew about it and so the time passed by.
Herasym Łukiańczuk

awarded

Herasym Łukiańczuk
(1890–1953)

"He walked slowly and told me discreetly: 'Don't go anywhere, maybe they won't see you. I will come and get you in the evening. Your brother is already at my place,'" recalled Leokadia Skowrońska, who was saved by Herasym Lukianchuk.

Ołeksandra Wasiejko z d. Łukaszko (ur. 1946)

awarded

Ołeksandra Wasiejko z d. Łukaszko (ur. 1946)

During the Volhynia Massacre in the summer of 1943. Over the next seventy years Oleksandra Vaseyko kept alive the memory of the victims, bringing flowers to their graves and keeping them in her prayers.

Jenő Etter (1889–1973)

awarded

Jenő Etter (1889–1973)

The mayor of the Hungarian city of Esztergom received dozens of letters written in Polish. The greeting lines themselves showed the sympathy and gratefulness of the Polish refugees: "Dear Captain!", "Dear Doctor!". Jenő Etter understood them all.