Józefa Dmoch - Instytut Pileckiego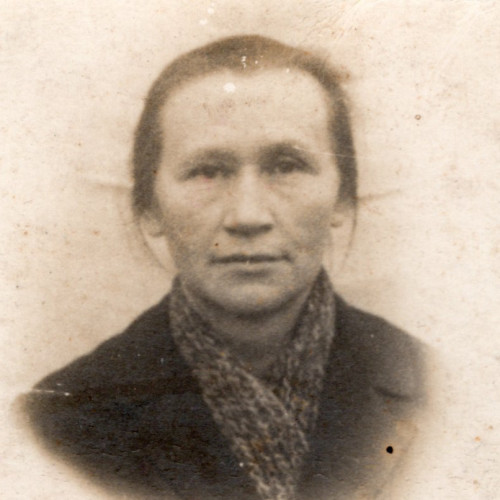 Commemorated on 14 June 2022 in Poświętne
She lived with her husband Józef in the village of Helenów, near Stanisławów in Mazovia. The property was surrounded by forest on three sides, and railroad tracks ran nearby. The family made a living on their small farm.
They were very hardworking and capable people. They had seven children, one of whom died prematurely. They often sold produce from their farm at the Stanisławów market, and thus had many contacts with representatives of the pre-war Jewish community who lived in the area.
With the outbreak of war and the advent of the German occupation, a resistance movement flourished in the commune of Ręczaje, where the village of Helenów was then located. Jan, the eldest son of Józefa Dmoch, also fought. German formations in that area operated on high alert.
When the time came for the liquidation of the Jewish community, including in the Stanisławów ghetto, a number of Jews managed to escape. They hid in the surrounding woods and tried to get the help that was so ruthlessly punished at the time.
Józefa Dmoch and her husband Józef took in around ten Jews who had probably come from Stanisławów and Warsaw. The couple prepared a hiding place for them in the barn, above where their animals were kept. The Jews stayed in hiding during the day, coming out only in the evening and at night.
In July 1943, a German expedition arrived outside the Dmochs' property. Unfortunately, one of the Jewish women was outside doing laundry at the time. When she noticed the Germans approaching, the woman warned the other Jews, who began to run out of the barn and flee in the direction of the forest. Shots rang out. Some of the Jews did not survive, but six managed to escape.
Józefa and Józef Dmoch's children escaped from the house through the windows and sought hiding places for themselves in the forest and in the wheat field.
Shortly after, the Germans burst into the house and began a search. Józefa, her husband and two Jews were arrested and taken to the Gestapo station in Radzymin. On the way, Jan Kowalski, their neighbor and deputy head of the village, and his wife Ludwika were also arrested on suspicion of failing to report that the Dmochs were aiding Jews.
The captured Jews were shot without trial, and the two couples were subjected to interrogations and cruel beatings. After a few days, a sentence of death by firing squad was issued, which was carried out on 15 July 1943. Józefa Dmoch, her husband Józef and Jan Kowalski were killed. Ludwika Kowalska was exonerated and released following an intercession by Józefa.
The bodies of the victims were buried in a common grave in a forest near Radzymin.
Józefa Dmoch was commemorated by the Pilecki Institute on 14 June 2022 in Poświętne.