Outlines Of Memory, praca zbiorowa | joint publication - Instytut Pileckiego
"Outlines of Memory" is an album of accounts submitted by Polish citizens who during the Second World War encountered firsthand the horrors of German and Soviet totalitarianism. Seven graphic artists took up the challenge of illustrating these harrowing experiences. The album includes 100 of their drawings.
The depositions present the experiences of specific people – the victims of Communism and Nazism. The book, which contains individual depositions and nearly 100 illustrations made using various tools of graphical expression, constitutes a dramatic introduction to the double occupation of Poland.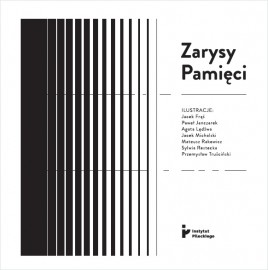 Go to our store
ALBUM CONCEPT:
Tomasz Stefanek, Leszek Zaborowski
MANAGING EDITOR:
Leszek Zaborowski
EDITORIAL COOPERATION:
Iwona Jabłońska
ILLUSTRATIONS:
Jacek Frąś, Paweł Janczarek, Agata Lędźwa, Jacek Michalski, Mateusz Rakowicz, Sylwia Restecka, Przemysław Truściński
PUBLISHER:
The Pilecki Institute 2019