The Ładoś List, redaktor | editor: Jakub Kumoch - Instytut Pileckiego
During the Second World War, an unofficial group of Polish diplomats from the Polish Legation in Bern, led by that country's envoy to Switzerland Aleksander Ładoś, cooperated with representatives of Jewish organizations to rescue Europe's Jews. From at least the beginning of 1941 until the end of 1943, the members illegally purchased and issued passports and citizenship certificates of four South and Central American states: Paraguay, Honduras, Haiti and Peru. These were delivered to people under threat of death in the Holocaust and served to protect their bearers from transport to the death camps located in the Third Reich.

Various estimates show that the Ładoś Group issued 4,000 to 5,000 of these documents during a passport campaign which could have reached as many as 10,000 people. This publication represents the first attempt to create a list of all the people for whom these documents were created. The list currently includes 3,253 individuals, some of whom survived the war, some of whom perished in the Holocaust, and many whose fates remain unknown. The list is accompanied by an extensive description of the Ładoś Group's actions, the development methods used and a preliminary statistical analysis of the material. Research on the list was conducted by the Polish Embassy in Bern in cooperation with the Pilecki Institute and with the support of other institutions, such as the Jewish Historical Institute, the Institute of National Remembrance and the Memorial and Museum Auschwitz-Birkenau.

"This book contains one of the most remarkable documents in the history of the Holocaust. A list of some 3,253 people – a fraction of the estimated 8,000–10,000 individuals who were the intended recipients of Latin American passports, forged by Polish diplomats in Switzerland – it represents one of the largest rescue operations undertaken during the German genocide against the Jews. A fascinating and valuable volume, this book reproduces the list, explaining its origins, its significance, and outlining the methodology employed in its analysis."

ROGER MOORHOUSE, British historian, author of First to Fight: The Polish War 1939 (2019) and The Third Reich in 100 Objects (2017).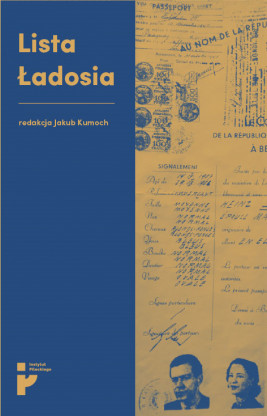 Go to our store
SUBTITLE:
An index of people to whom the Polish Legation and Jewish organizations in Switzerland issued Latin American passports during the Second World War
AUTHORS:
Jakub Kumoch, Monika Maniewska, Jędrzej Uszyński, Bartłomiej Zygmunt
PUBLISHER:
The Pilecki Institute 2020