The Experience of Two Totalitarianisms: Interpretations, praca zbiorowa | joint publication - Instytut Pileckiego
Publications
The Experience of Two Totalitarianisms: Interpretations
The book contains scientific essays authored by the participants of a seminar during which twelve scholars presented original interpretations of the key elements of the Polish experience of two totalitarianisms. The members of the research group, the work of which was organized and coordinated by four scientific supervisors, based their activities on research methods and sensitivities characteristic of various disciplines: history and the history of ideas, political science, political philosophy, literary studies, sociology, and jurisprudence.
The publication has been financed under the "DIALOG" program of the Ministry of Science and Higher Education for the years 2017–2018.
The book was published in Polish.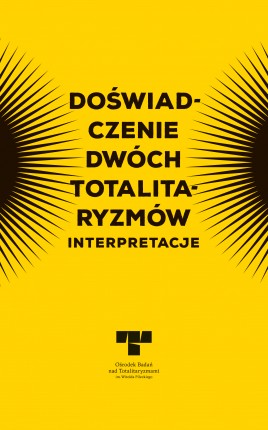 Go to our store
EDITOR:
prof. Paweł Kaczorowski, prof. Marek Kornat, dr Joanna Lubecka, prof. Piotr Madajczyk
MANAGING EDITOR:
Leszek Zaborowski
SCIENTIFIC REVIEWERS:
prof. Marek Maciejewski, prof. Tadeusz Panecki, prof. Maciej Urbanowski Koncepcja projektu bada
RESEARCH PROJECT CONCEPT:
dr Wojciech Kozłowski, Tomasz Stefanek
PUBLISHER:
Witold Pilecki Center for Totalitarian Studies 2018
RESEARCH PROJECT COORDINATOR:
Roman Drecki