Make peace, not war: Reporting from the Front Lines | Pilecki Institute Masterclass - Instytut Pileckiego
}
lecture
24.11.2022 (Thu) 12:00
Make peace, not war: Reporting from the Front Lines | Pilecki Institute Masterclass
The Pilecki Institute Masterclass is a series of two-day specialist in-person workshops for humanities students in Poland with war correspondents.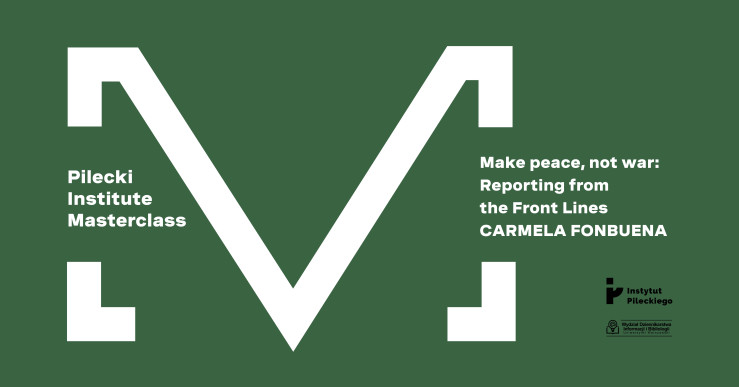 Through their investigative intuition, determination and broad perspective, war correspondents are contemporary witnesses to the battle against humanity. Tutors of this project are authors who take risks to uncover the truth about a threat to human dignity, as well as appeal to conscience, and issue warnings for the future.
The aim of the project is to show the specificity of the work of the war correspondent, as well as the importance and the peril of it. The Masterclass formula is to develop practical skills related to the work of a reporter or a correspondent, inspiring students who are planning a similar career path, as well as broadening the knowledge of ongoing conflicts and showing that there are still many places in the world, where life and human dignity are threatened.
First workshop will be about Reporting from the Front Lines. The classes will be conducted by Carmela Fonbuena. She has been a journalist for 19 years, and has co-written 4 books on Philippine elections and government contracting. Carmela Fonbuena was a senior reporter for Rappler from 2011 to 2018 and was the head researcher of GMA's 'Bawal ang Pasaway' public affairs program. Prior, she worked as a researcher for the investigative news magazine, Newsbreak. Recently, she has been contributing in-depth pieces for the British news website, The Guardian.
A the Pilecki Institute Masterclass she will be talking about the stories she write about wars and the need for journalists to put the most vulnerable at the center of their reportage. These are the residents who are displaced from their homes and forced to live in evacuation centers; the civilians who are trapped in the middle of gun battles and still trying to escape; or those who have loved ones inside war zones and are waiting for news of their escape. Putting them front and center in our reports help ensure that decisionmakers in governments and in militaries will think of them when they make decisions.
All Masterclass workshops and lectures will be held in English.
Schedule of Masterclass:
day:
12:00 – 14:00 – open meeting for all students - moderated conversation and Q&A session
14:00 – 15:00 – break
15:00 – 16:30 – workshop - Tips for journalists traveling to a war zone.
16:30 – 17:00 – break
17:00 – 18:30 – Writing workshop
day:
15:00 – 16:30 – A discussion on the reports written by the participants the previous day
16:30 – 17:00 – break
17:00 – 18:30 – workshop summary