News
Der Metabolismus der modernistischen Stadt
Eine Online-Diskussion im Rahmen von Exercising Modernity 2021 - We Were/Are the Future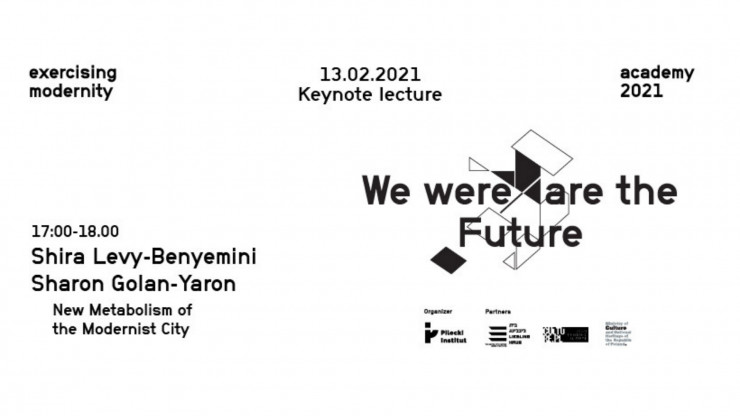 Online-Lecture | Shira Levy-Benyemini and Sharon Golan-Yaron | 13.02.2021, 17.00
Register here: https://zoom.us/webinar/register/WN_5aPGrXV2TNeqdF-2wu5yCg
The avant-garde modernist era formed post World War I was a quest for creating better human living conditions in the world of tomorrow. As technical aspects of the Industrial revolution brought with them new opportunities of creation and mass production for the benefit of society, multidisciplinary approaches to design, architecture and urban planning started changing its shape. Practical issues such as the connection to the environment were an integral part of understanding the human need for recreation, and the connection to nature as a whole was at the forefront of the agenda. We were/are the Future Understanding the "COVID-19 recession" crisis as an opportunity for change while considering contemporary possibilities arising from the "big data information age" we are currently in, one must reconsider the social and tangible shapes that our society dowels up on in order to approach the call for change. As the Canadian activist Naomi Klein states, we are seeing the beginnings of the era of climate barbarism. The clear need to return to a vernacular understanding of the local ecosystem invites a shift to new co-habitation strategies, which we must start to design. The Liebling Haus will tackle questions of such possible new strategies considering a post disciplinary approach, which shall encourage both the contemplation of new forms of metabolisms on the one hand while integrating solutions with a historical value based on the modernist era on the other.
Shira Levy-Benyemini is a CEO and Artistic Director of the Liebling Haus – The White City Center, was born in Tel Aviv in 1974 and holds an MA in City Planning and Public Policy from the Hebrew University in Jerusalem and a Diploma of Curatorial Studies and Museology from Tel Aviv University. Levy-Benyemini is an expert on urban regeneration processes, community planning and urban conservation. In her thesis, Levy Benyemini explored the interconnections of urban transformation, particularly involving cultural and artistic activities. As a city planner, she has participated in the establishment of the department for conservation implementation in the Tel Aviv municipality. Her main activity in recent years is creating projects that connect urban planning with culture and art.
Architect Sharon Golan-Yaron is the Program Director of the Liebling Haus.
She holds a Bachelor degree in Architecture from the IIT Chicago, a Master's degree from the Technische Universität Berlin, and a second Master's degree in architectural conservation and urban planning from the Technion in Haifa. During her work at the Conservation department of the Tel Aviv Municipality she laid the foundation for
and co-founded the Liebling Haus – The White City Center.
Her Book "Architectural Guide Tel Aviv" was published for the Center in 2019, by DOM publishers. Her main activity in recent years is engaging the community and the public with contemporary
urban issues, while merging historical conservation with environmental
responsibilities.
Die Geschichte von Wojciech Rychlewicz

news

Die Geschichte von Wojciech Rychlewicz

Jetzt in der neuen Ausgabe von Spektrum der Wissenschaft Geschichte. Wie der polnische Konsul in Istanbul es der Ładoś-Gruppe gleichtat und durch gefälschte Reisepässe jüdische Leben rettete.

Olympia, Polen und der Schatten der Geschichte

news

Olympia, Polen und der Schatten der Geschichte

Anlässlich des Beginns der Olympischen Spiele in Tokio blicken wir auf eine Zeit zurück, in der die Olympischen Spiele von zwei Weltkriegen überschattet waren, und erinnern an die Einzelschicksale der Sportler:innen, die das noch junge Polen vertraten.

Die Entschlüsselung der Enigma und ihre polnische Vorgeschichte

news

Die Entschlüsselung der Enigma und ihre polnische Vorgeschichte

Bereits 1932 knackten Rejewski, Rózycki und Zygalski als Mitarbeiter des Biuro Szyfrów, der polnischen Dechiffrierstelle, den Code der Anfangsversion der deutschen Enigma-Maschine.