Filip Gańczak | Jan Sehn. Tropiciel nazistów [Jan Sehn. The Nazi Hunter] - Instytut Pileckiego
Filip Gańczak | Jan Sehn. Tropiciel nazistów [Jan Sehn. The Nazi Hunter]
The biography Jan Sehn. Tropiciel nazistów [Jan Sehn. The Nazi Hunter] by Dr. Filip Gańczak caught the attention of the Awards Committee of the Witold Pilecki International Book Award and won the prize in the second category devoted to historical reportage
He was not a prisoner of the concentration camps and neither did he personally experience any repression from the Germans, but Jan Sehn, a descendant of German colonists who had settled in Galicia, became a prominent expert on Auschwitz in the post-war era and fought for the accountability of the Nazi atrocities. As chair of Kraków's District Commission for the Investigation of German Crimes, he interrogated leading criminal figures that had been handed over to Poland. Although he later declared himself to be an opponent of capital punishment, he contributed to the execution of many of the culprits. Filip Gańczak created a fascinating portrait of Professor Jan Sehn based on archival research and journeys to the places with which he was connected.
Dr. Filip Gańczak is a journalist, political scientist and employee of the Institute of National Remembrance. He wrote several books devoted to history, including Polski nie oddamy. Władze NRD wobec wydarzeń w PRL 1980–1981. He specializes in German and German-Polish issues.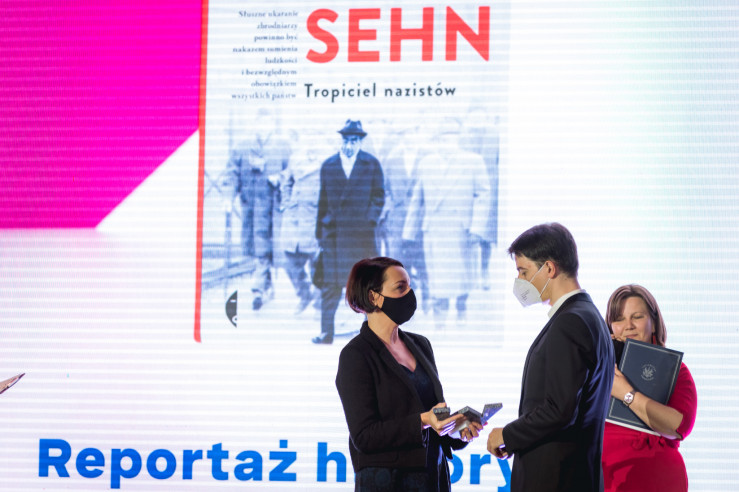 Dr. Filip Gańczak collected the award from Prof. Magdalena Gawin, Deputy Minister of Culture and National Heritage.
The author discussed his reasons for exploring the life of Jan Sehn, the specifics of his research and the uniqueness of the German "Nazi hunter" in an interview conducted by Lukrecja Jaszewska from the Pilecki Institute.
On 17 November 2021, Dr. Filip Gańczak was present at the awards ceremony of the Witold Pilecki International Book Award to collect the prize in person.
Apart from a specially-designed statuette, the winner received a cash prize of PLN 75,000.