News
The Exercising Modernity Cultural Scholarship
Die Gewinner*innen stehen fest!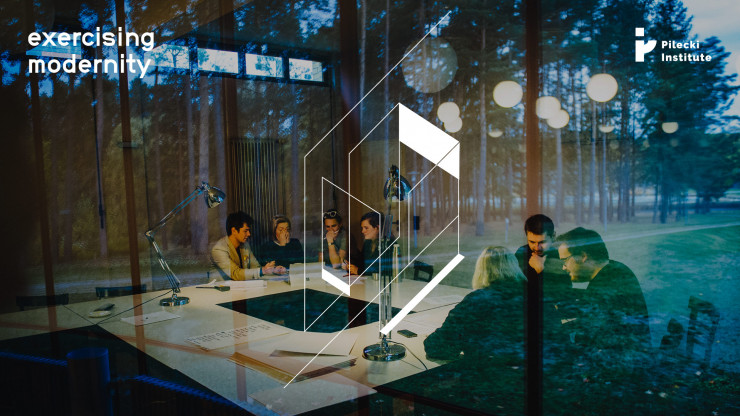 Es war keine leichte Wahl, ganz im Gegenteil, aber nun stehen sie fest, die Gewinner*innen unseres Cultural Scholarships:
1.) Aleksandra Nowysz
2.) Ohad Kabri
3.) Jakub Danilewicz
4.) Daphna Noy
5.) Agata Woźnicka
Wie man sieht, haben wir die Zahl der Stipendiantinnen und Stipendianten von 4 auf 5 erhöht. Das war vor allem der Tatsache geschuldet, dass unsere Stipendiumausschreibung ein solch reges Interesse erweckt hat. Vielen lieben Dank dafür allen Teilnehmer*innen und wir freuen uns schon auf eure weiteren Projekte und Entwürfe in der Zukunft!
---
Here they are: the winners of our Cultural Scholarship. Far from being an easy choice, the sheer volume and quality of the applications made it a very tough one.
1. Aleksandra Nowysz
2. Ohad Cabri
3. Jakub Danilewicz
4. Daphna noy
5. Agata Woźniczka

As you can see, we have increased the number of scholarship holders from 4 and 5. This was mainly due to the fact that our scholarship announcement aroused such a lively interest. Many thanks to all participants and we are looking forward to encountering your future projects and ideas in the future!
---
Berlin, 15 June 2020
Competition for Cultural Scholarships
of the Pilecki Institute Berlin
The Witold Pilecki Institute of Solidarity and Valor acting pursuant to the provisions of Article 15 of the Act of 9 November 2017 on the Witold Pilecki Institute of Solidarity and Valor (Journal of Laws, Item 2303 with subsequent amendments) and of §4, Subparagraph 1 of the Regulation of the Minister of Culture and National Heritage, dated 13 December 2018, on scholarships supporting scientific research and educational and cultural projects falling within the scope of activities of the Witold Pilecki Institute of Solidarity and Valor (Journal of Laws of 2019, Item 23), hereby announces a competition for cultural scholarships under the project:
The Exercising Modernity Cultural Scholarship
The subject of the competition are four cultural scholarships, each totaling 1,000 EUR net per month, which will be awarded for a period of six months. Implementation of the scholarship program has been planned for the period from August 2020 to April 2021, whereas the earliest feasible date for commencing the project is 1 August 2020.
The second edition of the Exercising Modernity Academy was devoted to the issue of the common good, and accompanied by an analysis of the concept of "community", of forms of communitiness, and the commons. While directing the attention of participants to that which is collective and/or shared, we encouraged them to reflect on social relations in the 20th century, these referencing both the common identity (historical, religious, national and class) and common interests or needs, and also engaged them in a stimulating discussion concerning that which is common. Our approach inspired a dialogue and questions about the meaning and the vital role of communities in the development of modern states, cities, and societies.
One of the topics which comes to mind when thinking about that which is common is the common space and its possible manifestations – its interpretation as a public space and spaces located between the private and the public (especially in the context of models of collective life). This is strongly connected with the issue of co-housing and the interrelations in which various forms of collective life – the city, the village, the kibbutz – engage with nature and the natural environment. The concept of the garden city and the modernist ideals which highly prize access to light, greenery and fresh air constitute an interesting point of reference for present-day discussions (always current!) on the topic of man's relations with nature. These two issues – the common space and man's relations with nature – and the way in which they were conceptualized by modernism (or rather modernisms) delineate the topical area of the 2020 scholarship competition for artistic projects.
We consider the following specific subtopics to be of particular interest:
common space in the context of memory, identity and history,
issues of common and shared spaces (kibbutzes, kibbutz dining rooms, common spaces in community housing estates, etc.),
experiments with institutions of collective life (e.g. childcare homes, care institutions),
creating communities by designing spaces of common life (the architecture of collective life),
nature and access to nature as a precondition to the general well-being of members of a community/society (sanatoriums, summer resorts, city gardens, municipal greenery),
educational concepts and social ideas based on the vision of man's interconnection with nature,
"curating nature" – nature in aesthetic and utilitarian functions (e.g. municipal agriculture, community gardens, landscapes, nature as camouflage and as a raw material),
nature as an archive.
We situate all these topics in the context of memory and history as a common space, for we consider it important to reference historical and modernist concepts and ideas which last over time and therefore define the community (especially those that are closely associated with the project of modernism, such as the state, or local and national identity).
Scholarships are granted for projects which:
1. focus on the issue of modernity.
2. touch upon a selected topical area with reference to the 20th-century history, art and/or culture of Poland and additionally reference at least one of the two of the countries that are of key importance for the 2019 edition of the Academy: Germany or Israel.
3. conjoin artistic and research components – regardless of whether the proposed project is artistic, curatorial or other in nature, it is important for it to be rooted in research, in the current state of knowledge, or in the applicant's own exploration of his/her chosen subject (projects may be based on art as research, practice as research, etc.).
4. are interdisciplinary in nature.
5. harness the modernist tradition to seek points of contact with contemporaneity and modern-day challenges.
6. seek to disclose connections between all three countries (i.e. Poland, Germany, Israel).
7. propose attractive forms of presentation of their effects/results.
Scholarships are awarded for the process of creation of the concept and its developing, which includes in particular intellectual or conceptual work, research and preliminary research, and the gathering of materials. It is not required to complete any final effect/work (e.g. print a book or stage a performance) during the scholarship period.
The scholarship offer is addressed to young artists and/or scholars of the humanities who took part in the Exercising Modernity Academy organized by the Pilecki Institute in 2019.
Competition applications may be submitted individually only.
Only a single scholarship project may be submitted under one application (i.e. by one applicant).
Implementation of the project will be supervised by Aleksandra Janus (curator of the Exercising Modernity program) and Małgorzata Jędrzejczyk (Pilecki Institute in Berlin, curator of the Exercising Modernity program), acting in consultation with the program team of the Adam Mickiewicz Institute and The Liebling Haus – White City Center.
Works created by scholarship holders under the 2020 edition have a chance of being presented at an exhibition that will be organized at The Liebling Haus – White City Center (Tel Aviv) in 2021.
When the scholarship comes to an end, selected scholarship projects will have a chance of obtaining additional financing intended for their production (e.g. in the form of an exhibition, a book, an artistic work).
Information about the scholarship:
∙ The scholarship will be awarded in the sum of 1,000 EUR net per month for a period of 6 months (which may be extended for a further 2 months in justified instances).
∙ Projects are to be executed between August 2020 and April 2021.
∙ At maximum 4 scholarships will be awarded.
∙ Scholarship holders are not obliged to remain in Warsaw or Berlin throughout the scholarship period.
∙ Scholarship holders are obliged to attend substantive consultations (at minimum two consultation sessions) with the participation of persons responsible for the scholarship program on the part of the Pilecki Institute in Berlin, of the Adam Mickiewicz Institute, and of The Liebling House – White City Center in Tel Aviv, duly indicated by the organizers during the scholarship period (dates will be agreed on jointly by all parties).
∙ Scholarship holders are obliged to present the results of their work to a wider audience during an event summarizing the scholarship program, at the latest within 3 months of the end of the scholarship period (the exact date, form of presentation and venue will be determined jointly by individual scholarship holders and the project supervisor during the final month of the scholarship program).
∙ Each scholarship holder may additionally hold 12 hours of consultations with an expert (at maximum 2 persons) indicated by the scholarship holder, the remuneration of whom shall be paid by the Pilecki Institute.
∙ Scholarships will be paid out as monthly instalments.
Scholarship holders may apply for a refund (up to 400.00 EUR) of costs of travel and/or accommodation arising in connection with preliminary research and/or artistic research necessary for execution of the project.
The method of presentation of results of the scholarship project shall be determined individually with each scholarship holder towards the end of the scholarship period.
Products of the scholarship may include:
∙ an artwork (in a final or draft version) made using all available mediums and encompassing all fields of creative practice, in a form which allows its presentation before an audience,
∙ a concept of an exhibition,
∙ a scholarly article or a research report,
∙ a draft of a publication accompanied by summaries of individual sections or chapters,
∙ documentation concerning a social intervention, together with a description of its objectives and a summary.
Applications:
Candidates are invited to submit their applications in English via e-mail to the following address: apply@exercisingmodernity.com by 6 July 2020, 23:59 hours. Applications submitted after the deadline shall not be considered.
Please write in the title: "The Exercising Modernity Cultural Scholarship". A complete application should include:
1. CV and/or portfolio
Please attach the following clause:
I hereby consent to the processing of my personal data by the Witold Pilecki Institute of Solidarity and Valor with its seat in Warsaw for the purposes of the competition for cultural scholarships under the "Exercising Modernity" project.
2. A description of the cultural project (10,000 to 15,000 characters with spaces), the scholarship holder's choice of persons (not more than 2) with whom the scholarship holder wishes to consult his/her preliminary research and artistic research, and an indication of the locations at which he/she intends to conduct his/her preliminary research/artistic research.
3. The scholarship schedule, which shall include information about planned study tours and preliminary research.
4. Scan of at least two recommendations from scientific, research or cultural institutions (domestic or foreign), or private individuals.
5. Scan of a declaration concerning the controller of personal data
6. Scan of a declaration of consent to the processing of personal data
If you have any questions or concerns, please send them to the address: contact@exercisingmodernity.com
Review process:
The competition will be settled by 10 July 2020, and the results will be published in the Public Information Bulletin of the Institute and on the website www.instytutpileckiego.pl. Persons who are awarded a scholarship will also be notified via e-mail.
The Institute is not obligated to substantiate the decisions of the Competition Committee. No appeal procedure has been provided for.
Organizer:
Pilecki Institute Berlin
Partners:
Adam Mickiewicz Institute
Liebling Haus – The White City Center
Janusz Korczak: Arzt, Pädagoge, Schriftsteller, Denker

news

Janusz Korczak: Arzt, Pädagoge, Schriftsteller, Denker

Ohne den leisesten Zweifel, als sei es das Selbstverständlichste der Welt, folgte er den etwa 200 Kindern aus seinem Waisenheim in einen bereitgestellten Transportwagen, welcher sie in das Vernichtungslager in Treblinka brachte.

Das Massaker von Wola

news

Das Massaker von Wola

Zwischen 30.000 und 60.000 Frauen, Kinder, ältere Menschen, sowie Männer wurden erschossen und lebendig verbrannt. Nach stundenlangen Archivanalysen im Landesarchiv Schleswig-Holstein stießen wir auf bisher nicht veröffentlichte Fotografien.

Unser Newsletter

news

Unser Newsletter

"Mittendrin statt nur dabei". So erfahren Sie garantiert über alle alle unsere Veranstaltungen.