The long-awaited publication of the 'Ładoś list' - Instytut Pileckiego
The long-awaited publication of the 'Ładoś list'
The Pilecki Institute has published a list of 3,262 names of Jews who were in possession of so called 'Ładoś passports', named after the Polish ambassador to Switzerland in 1940-45.
Warsaw – Polish wartime diplomats in Switzerland attempted to rescue between 8,000 and 10,000 Jews from Holocaust, by providing them with fake Latin American documents, a new research study published by Warsaw-based Pilecki Institute reveals.
A list of 3,262 names of Jews (please follow the link) who were in possession of so called 'Ładoś passports', named after the Polish ambassador to Switzerland in 1940-45, has been published by the Institute, after a two-year research study conducted together with the Jewish Historical Institute, Auschwitz-Birkenau Memorial Museum and the Polish Institute of National Remembrance.
"The 'Ładoś List' is one of the largest Holocaust research projects conducted during recent years. The study was conducted in many archives, including Bad Arolsen, Yad Vashem, Polish AAN and many others", Pilecki Institute's director Dr. Wojciech Kozłowski said.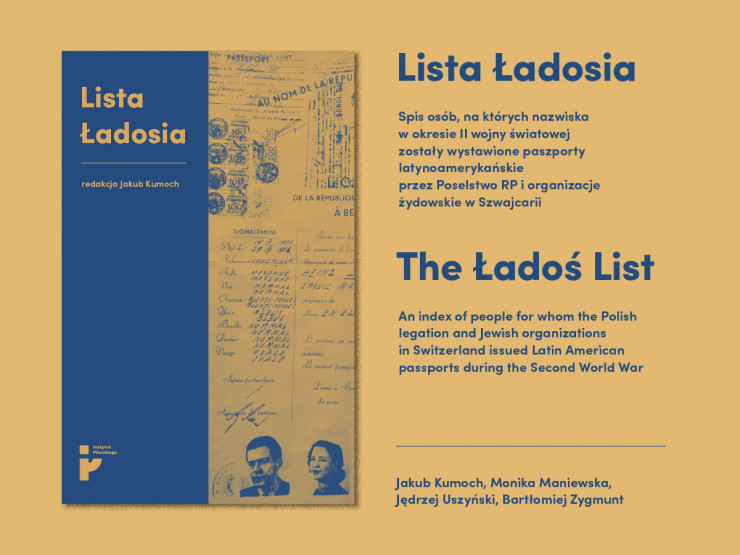 The paper reveals that between 24 and 45 per cent of Jews who were in possession of Polish-forged documents of Paraguay, Honduras, Haiti and Peru, managed to survive the Holocaust. Several dozen of them are still alive.
"We have managed to gather information about 3,262 people out of which 796 certainly survived the war and 957 certainly did not. The fate of the others is unknown, despite our research efforts in various databases. The real number of the survivors is much larger. We estimate that the Ładoś group contributed to the rescue of between 2,000 and 3,000 people", the study's editor Dr. Jakub Kumoch said.
The study concludes that Ładoś, and his group, overall helped Jews in a dozen European countries, mostly in occupied Poland and the Netherlands.
"Most of the documented cases of survival were found among Dutch, German and Austrian Jews. They outnumber the documented cases of survival among the Polish Jews", the study's co-author, Monika Maniewska, commented.
The published list contains the names of, for example, several famous fighters of the 1943 Warsaw Ghetto Uprising, including Zivia Lubetkin and Yitzchak Zuckerman, as well as leaders of Jewish resistance from Slovakia, France and Italy. One of the thousands of people who had Ładoś passports was also Poland's future foreign minister Adam Rotfeld. Another documented case is that of Anne Frank's best friend Hannah "Hanneli" Goslar.
Ambassador Ładoś, who during the German occupation of Poland, represented the London-based Polish government in exile, authorized his diplomats to fabricate documents of third countries in an attempt to help rescue at least part of the country's 3,500,000-strong Jewish community.
Ładoś passports were meant to protect their holders from being sent to the German Nazi death camps. The passports were sent to citizens of a dozen European states who were interred in concentration camps and ghettoes in occupied Poland and the Netherlands.
Almost half of the passports and citizenship certificates of Paraguay were forged by Ładoś's vice-consul Konstanty Rokicki and a minor part by his deputy Stefan Ryniewicz and in both instances, with noticeable help of the Embassy's Jewish employee Juliusz Kuhl.
Other documents, passports and certificates of Honduras, Haiti and Peru, were purchased, with authorization by Ładoś, by two Jewish members of the Ładoś Group – Abraham Silberschein and Chaim Eiss. In 1943, the whole operation received the support of the Government of Poland which pressured Latin American states to recognize these fake documents for humanitarian reasons.
Director Kozłowski said that although 3,262 names have been established, some 5-7 thousand are still missing.
"We sincerely hope to receive the help of Jewish communities worldwide to find out the identities of these additional people. We believe that there is no further possibility to identity any other names by archival research. During the last two years the authors have done really very much. Now it's time for the families of survivors and victims to tell their story", he said.
However the English version of the study is to be published in February, the electronic version of the list is available at Pilecki Institute's website (please see below). If you have any questions or remarks, please contact us: ladoslist@instytutpileckiego.pl